Stress and anxiety have become commonplace in society. So, the search for natural remedies to support our mental and physical well-being is gaining momentum: enter adaptogens and nootropics.
This article will explore adaptogens and nootropics, understanding their effects on our mind and body. Join us as we delve into the wonders of these natural remedies.
What are Adaptogens and Nootropics:
Adaptogens and nootropics, while distinct, share a common goal of optimizing our overall health.
Adaptogens refer to herbs and plants that aid our body in adapting to physical and mental stressors.While nootropics, often referred to as "smart drugs," focus on enhancing cognitive function, memory, and concentration.
Although some substances may overlap, each category possesses unique properties and benefits worth exploring.
Benefits of Adaptogenic Herbs
Adaptogenic herbs have been revered in traditional medicine for their ability to combat stress and promote overall well-being.
By regulating stress hormones and supporting the adrenal glands, these herbs offer a natural way to achieve balance and resilience.
Take, for instance, Holy Basil, also known as Tulsi, an adaptogenic herb celebrated in Ayurvedic practices. Holy Basil possesses calming properties, aiding in stress reduction and anxiety management. It is believed to restore cortisol levels, promoting a sense of tranquility and relaxation.
Benefits of Nootropics:
Nootropics, the brain-boosting powerhouses, promise to enhance our cognitive abilities, memory retention, and focus.
Benefits of Nootropics include improved learning capacity, increased motivation, and enhanced creativity.
Nootropics are also known to promote better sleep, and with improved sleep comes improved mental clarity and focus.
Certain nootropics can even help reduce inflammation in the brain, leading to improved overall health and well-being.
In short, Nootropics can be a powerful tool to help us optimize our minds.
Potential Side Effects:
While adaptogens and nootropics present exciting possibilities, it's crucial to approach them with awareness.
It is important to note that personal experiences can vary. Certain substances may interact with medicines or have side effects when consumed in large quantities.
Starting with lower doses and closely monitoring our body's response is prudent. Additionally, selecting reputable brands ensures the quality and safety of these substances.
Differences
Adaptogens and nootropics have distinct functions and effects. Adaptogens help the body handle stress and promote overall well-being, while nootropics specifically target cognitive function enhancement.
So, adaptogens regulate stress hormones and support the body's stress response system. Nootropics act on brain chemicals to improve brain function.
Both can be safe when used correctly, but following recommended dosages is essential. Understanding these differences helps individuals choose the right supplements for their needs.
Many adaptogens can also be classified as Nootropics. Let's explore them.
Adaptogens that are also Nootropics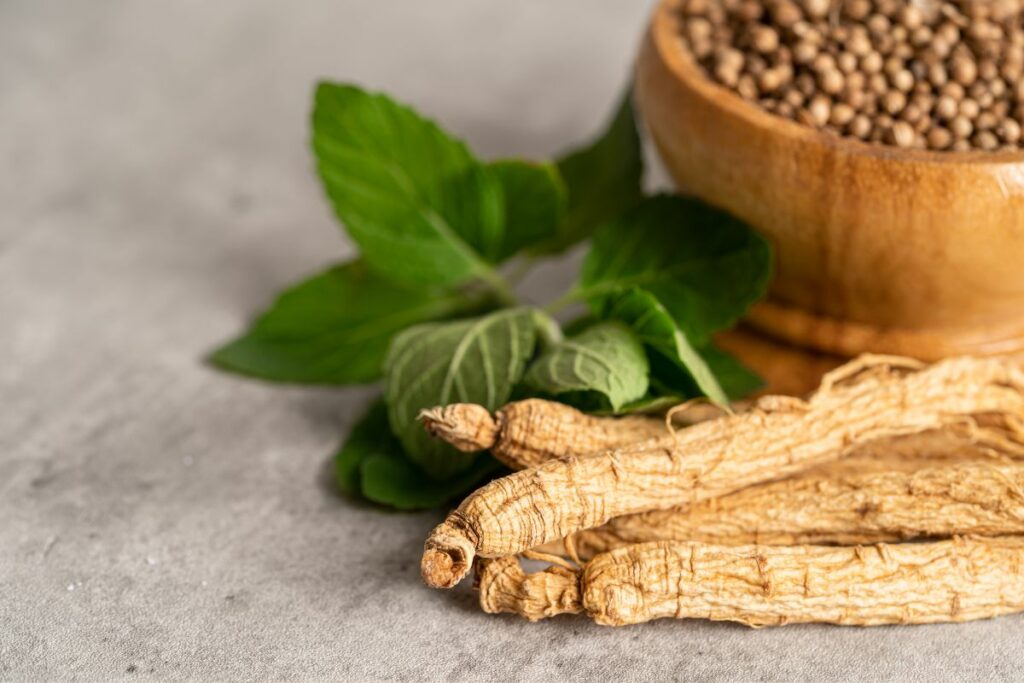 Let's dive into a few adaptogens that also showcase nootropic properties:
Rhodiola Rosea: An adaptogenic herb known for its potential cognitive-enhancing effects. It is believed to improve focus, mental clarity, and memory. By supporting neurotransmitters in the brain, Rhodiola Rosea helps optimize cognitive function and may alleviate symptoms of fatigue and stress.
Ashwagandha: Ashwagandha is a revered adaptogenic herb known for its calming and stress-reducing properties. It also exhibits nootropic potential by enhancing memory and cognitive performance. Ashwagandha can promote overall brain health and is often used to combat brain fog, improve focus, and support mental well-being.
Ginseng: Ginseng, another famous adaptogen, possesses various health benefits. It is believed to improve mental alertness, focus, and memory retention. Ginseng's ability to enhance cognitive function makes it a helpful adaptogen with nootropic properties.
Bacopa Monnieri: Bacopa Monnieri, an adaptogenic herb commonly used in traditional Ayurvedic medicine, has been associated with memory improvement. It supports neurotransmitter activity, promoting mental clarity and cognitive performance.
Ginkgo Biloba: Ginkgo Biloba, an ancient tree species, is renowned for its potential cognitive benefits. It improves blood flow to the brain, enhancing cognitive function, memory, and concentration. Ginkgo Biloba's adaptogenic properties help combat mental fatigue and support overall brain health.
Lions Mane: Lion's Mane, a potent nootropic and adaptogen, offers many benefits. This remarkable mushroom has been found to enhance cognitive function, including memory, focus, and mental clarity.
It's important to note that individual experiences with adaptogens and nootropics may vary. While these adaptogens possess nootropic qualities, the impact on cognitive function may differ from person to person.
Consulting with a healthcare professional is recommended. This helps you to determine the correct dosage for your needs. It also ensures compatibility with your personal health situation.
Incorporating adaptogens with nootropic benefits into your routine can provide a holistic approach to promoting both mental and physical well-being.
Explore adaptogens and their potential effects. They may support cognitive function, reduce stress, and enhance overall health. Discover the synergy they offer.
Conclusion
Adaptogens and nootropics offer an avenue to support our mental and physical well-being in our modern lives.
Holy Basil exemplifies the stress-reducing qualities of adaptogenic herbs, while Lion's Mane showcases the cognitive benefits of nootropics.
Taking adaptogens and nootropics as part of your daily routine can be a straightforward process. Whether you choose capsules, powders, or infused foods and drinks, these nutraceuticals offer a convenient way to enhance your mental and physical performance.
However, responsible and informed use is essential. Let us embark on this journey towards a healthier and more balanced lifestyle.