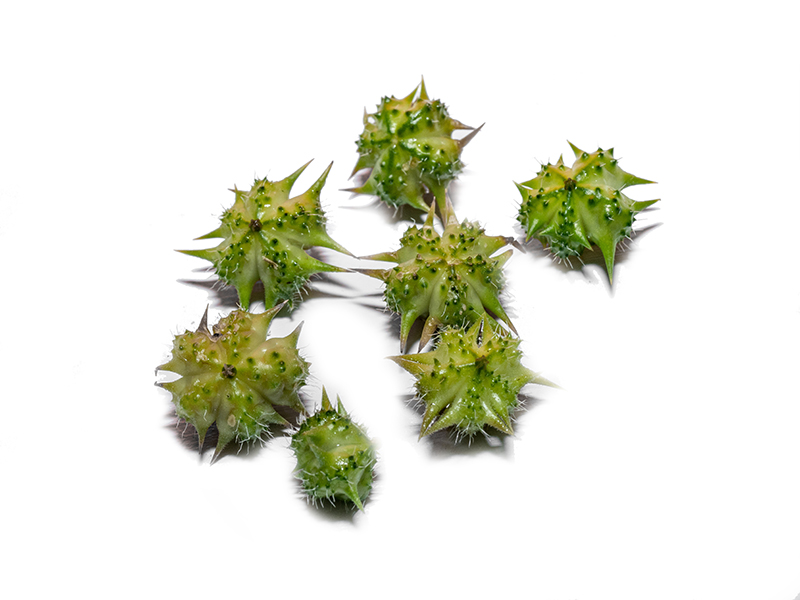 Trib, puncturevine, protodioscin

,

Tribulus Terrestris

Tribulus terrestris is a plant from Ayurveda where the root and fruits are used for male virility and general vitality, respectively. The roots enhance libido and sexual well being without affecting testosterone while the fruits appear to be potently protective of organ function.
Origin:

Plant Based

Source:

Itself

Type:

Herbs, Roots & Barks

Age Range:

Adults, Seniors

Toxicity:

May be toxic in high doses

Outcomes:

Libido and Sexual Health, Men's Health, Women's Health, Libido, Erections, Estrogen
What are Tribulus Terrestris benefits?
Tribulus Terrestris, also known as puncture vine, gokshura, or caltrop, is a plant where the root and its fruits are generally used for male health, including virility and vitality, being more specifically targeted to cardiovascular and urogenital health. In addition, according to studies, Tribulus Terrestris may promote some benefits to the body, especially in sexual functions, such as increasing libido, keeping the urinary tract healthy, and reducing bloating. There is some evidence that shows that consuming Tribulus Terrestris may also provide an increase in testosterone, but research has not yet come up with a definitive answer on this effect.
Table of relations
Outcome
Sub-Outcome
Consistent effects
Strength of effects
Scientific articles
Published articles about Tribulus Terrestris and Libido
Libido and Sexual Health
Published articles about Tribulus Terrestris and Erections
Men's Health
Published articles about Tribulus Terrestris and Estrogen
Women's Health
Sexual health refers to sexual behavior, the health of the genitals and the signaling of sex hormones, such as testosterone, estrogen and progesterone, which are related to libido. Supplements affect various aspects of sexuality, such as hormone regulation, sexual satisfaction and can also act indirectly on fatigue, stress and vasodilation of the sexual organs.
Libido is the overall sexual drive or desire for sexual activity which is influenced by biological, psychological, and social factors. Some nutraceuticals have scientific proof to help libido.
A man's health is the result of various habits throughout his life, such as diet, exercise, vaccinations, routine exams, and family history. Male health has biological differences from female health, such as: hormone levels, sexual life and libido, and the cognitive system. Keeping your body healthy requires discipline and attention to monitoring, because these differences require specific care and solutions for a balanced body. Nutraceuticals can help all areas of man's health to function in harmony, from the extraction of vitamins, minerals, and other substances from nature's plants, fruits, and herbs, they boost the good performance of every part of the body.
When the penis becomes rigid - erect. Erections dysfunctioning may have different causes and some nutraceuticals can help by increasing blod flow, regulate a hormonal deficiency or even a nutrient deficiency.
The female body has specific physiological processes involving sex hormones, health of the ovaries, uterus and vagina, menstrual cycle, pregnancy and lactation and menopause. The compounds indicated for women's health assist in the synthesis and secretion of these hormones, in premenstrual and menopausal symptoms and in the protection of female sexual organs.
Estrogen strengthens the menstrual cycle and the development of secondary sexual characteristics after puberty. it also has many other important functions, such as maintaining bone health, regulating other hormones, balancing cognitive function and mood, and more.
Related videos about Tribulus Terrestris