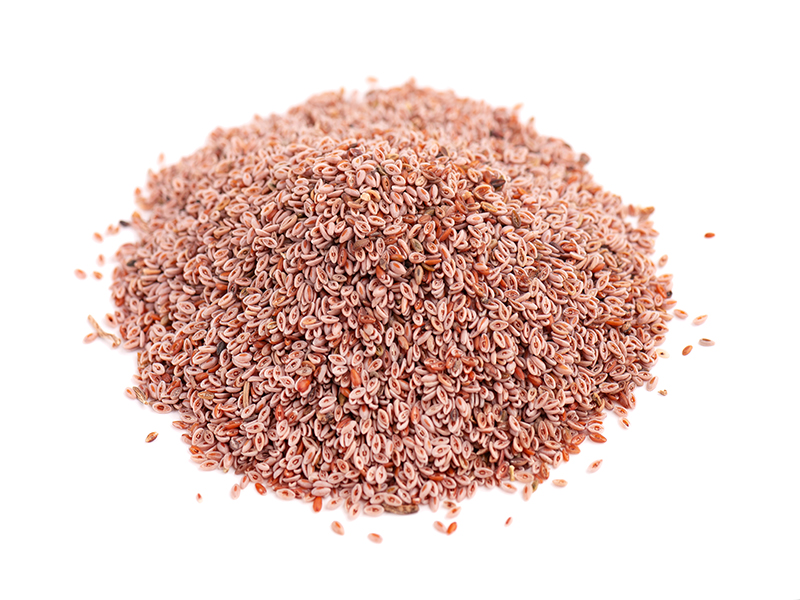 Plantago psyllium, Psyllium fiber

,

Psyllium

The Psyllium fiber is named after the seeds of the plant Plantago psyllium, it is very commonly used to treat constipation. This kind of fiber is water soluble and is the only one that is ferment resistant within the intestine, which gives its laxative properties (increases fecal weight and moisture). Beyond that, psyllium appears to be effective in reducing blood cholesterol and LDL, levels of blood glucose and also appetite.
Origin:

Plant Based

Source:

Itself

Type:

Prebiotics

Age Range:

Adults, Seniors

Toxicity:

There is no evidence of toxicity until now

Outcomes:

Gut Health, Specific Conditions, Digestion, Cholesterol and Triglycerides
What are Psyllium benefits?
Psyllium is a fiber derived from the Plantago psyllium plant (also known as Plantago ovata) that can bind to fatty acids and cholesterol in the diet. According to proven studies, psyllium increases fecal size and moisture, and the most common characteristics of a stool after psyllium supplementation are 'soft, sleek, and easily passable'. It is also worth noting that compared to other dietary fiber sources, psyllium appears to be more effective in stool formation, and appears to be one of the few fiber sources that are not associated with excessive flatulence. Other benefits of psyllium for the body, also include reduction of total cholesterol and LDL cholesterol in people with high cholesterol, as well as a slight reduction in HDL; possible reduction in glucose which may benefit diabetics; and a slight reduction in appetite when taken in high doses.
Table of relations
Outcome
Sub-Outcome
Consistent effects
Strength of effects
Scientific articles
Published articles about Psyllium and Digestion
Health Goals
Gut Health, Digestion
Dietary Supplement
Psyllium
Study Level
Randomized, Controlled Clinical Trial
Health Goals
Gut Health, Digestion
Dietary Supplement
Psyllium
Study Level
Clinical Trial
Gut Health
Published articles about Psyllium and Cholesterol and Triglycerides
Specific Conditions
Gut health is directly linked to our habits, such as unregulated sleep, poor diet, and little physical activity. Keeping our digestive system in order is taking care of our entire organism, because scientists have discovered that there is a connection between the peripheral nervous system (categorized by nerves and neurons outside the central nervous system) and the enteric nervous system (which controls digestion). Our gut has 100 million neurons, and 70-80% of the body's immune cells live there. In addition, gut health is linked to our mood through its conversion of tryptophan into serotonin.
Digestion refers to the breakdown of food into smaller components that can be absorbed into the bloodstream. Therefore it is one of the most important systems of the body, because it is responsable for all the nutrient income that "feed" all of our cells. Maintaining a good digestions is not always easy, as the digestive system behaves differently depending on how and what you eat. Some ingredients help this mechanism work better and preventing discomfort.
Specific body conditions categorize precise areas of our body, such as: Respiratory allergies; Liver; Eye health; Blood pressure; Cholesterol and triglycerides; and Blood glucose control. These areas require specific attention because they are delicate functions related to other parts of the body. Respiratory allergies, for example, are linked to the immune system, and to present an effective nutraceutical, we keep our scientific base up to date.
Triglycerides and cholesterol are both types of fat present in blood. They play very important roles in the body, such as hormone metabolism and nutrient circulation. In order for them to function properly, they need to be at optimum levels - not too high neither too low. The primary way to keep those good levels is to have a healthy diet, with lots of fiber and balanced fats. But there are some nutraceutics that have been proven to help in this process in a very effective way.
Table of negative interactions
Drugs
Acarbose, Acetohexamide, Chlorpropamide, Glimepiride, Glipizide, Glyburide, Insulin, Insulin Aspart, Insulin Degludec, Insulin Detemir, Insulin Glargine, Insulin Glulisine, Insulin Inhalation, Insulin Isophane, Insulin Lispro, Insulin Regular, Insulin Zinc, Lactulose, Linaclotide, Lithium, Miglitol, Nateglinide, Repaglinide, Tolazamide, Tolbutamide
Foods
Bread, Cereals, Flaxseeds
Related videos about Psyllium