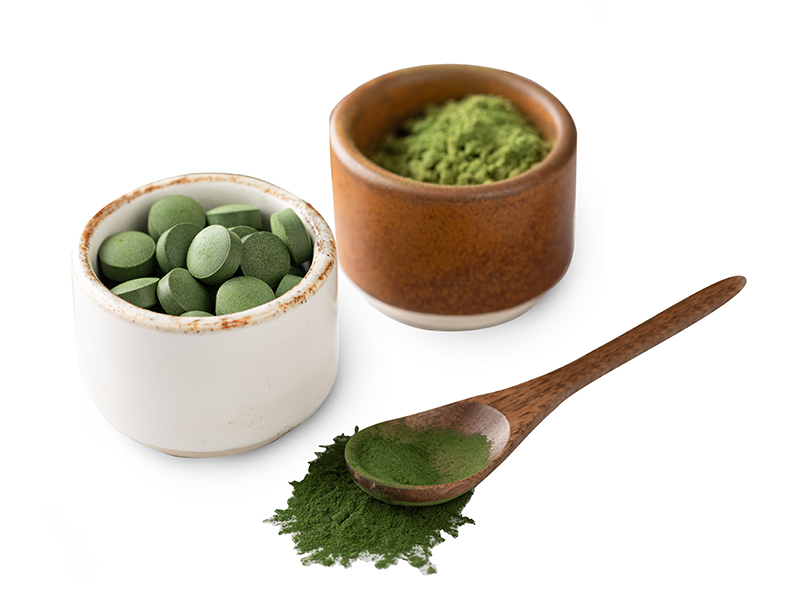 Chlorella pyrenoidosa

,

Chlorella

Chlorella is a unicellular green algae. It multiplies rapidly through photosynthesis, which requires carbon dioxide, water, sunlight and small amounts of minerals to reproduce. Chlorella can serve as a source of energy due to its photosynthetic efficiency, which is comparable to other highly efficient crops such as sugar cane. It is composed by proteins, lipids, carbohydrates, fibers, vitamins and minerals, as well as antioxidant and immunological agents.
Origin:

Plant Based

Source:

Itself

Type:

Vitamin, Mineral, Phytochemicals, Protein

Age Range:

Adults (18-60), Seniors (>60)

Toxicity:

May be toxic in high doses

Outcomes:

Immunity, Preventive Immunity
What are Chlorella benefits?
Texto Benefits
Table of relations
Outcome
Sub-Outcome
Consistent effects
Strength of effects
Scientific articles
Notes
Published articles about Chlorella and Preventive Immunity
Comments for this article:
Immunity, as expressed by T-cell activation, and NK cell activation as assessed by CD56+ expression, were enhanced after 96 hours of using ashwagandha at 12 mL/day, in two divided dosages (3:1 ratio of root extract to volume)
Comments for this article:
Salivary concentrations of Immunoglobulin A were significantly increased with 6g Chlorella daily over 4 weeks in otherwise healthy adult men
Immunity
Increase in salivary IgA suggests an immune enhancing effect; no comparison to a lively control.
The immune system is made up of cells, tissues and organs that act in the organism's defense against the harmful effects of external microorganisms. The supplements indicated for immunity act as strengthening agents of this system, increasing the antibodies production and, consequently, its defense activity.
White blood cells - or leukocytes - are the body's defense cells that destroy foreign agents, for example, bacteria, viruses and toxic substances that attack our body and cause infections or other diseases. There are also enzymes that refer to the antioxidant defense system that plays the role of inhibiting and/or reducing the damage caused by the harmful action of free radicals or non-radical reactive species.
Related videos about Chlorella