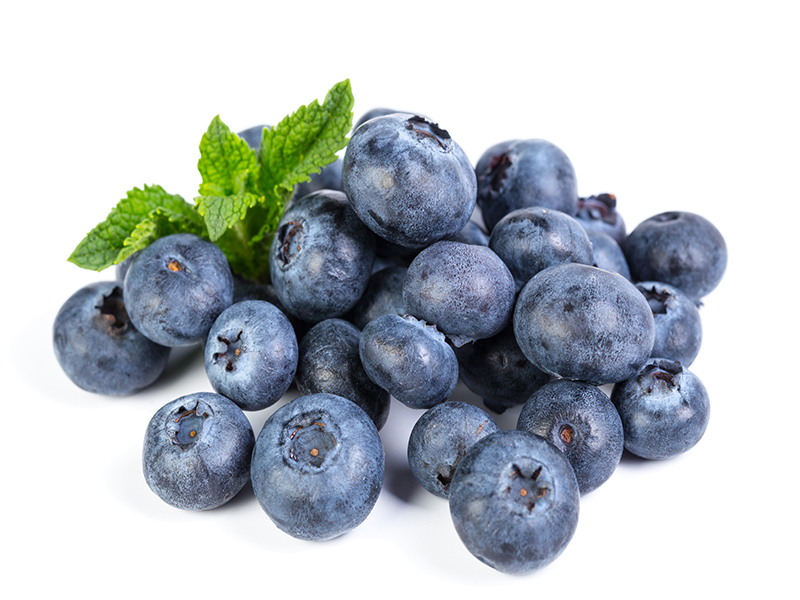 Blueberries

,

Blueberry

Blueberries are a very popular fruit, low in calories and very healthy due to its content of antioxidants and phytochemicals. They are a good source of vitamins and may potentially regulate blood sugar levels and aid heart and brain health.
Origin:

Plant Based

Source:

Itself

Type:

Antioxidants, Enzymes

Age Range:

Adults (18-60), Seniors (>60)

Toxicity:

There is no evidence of toxicity until now

Outcomes:

Cognitive Function and Brain Health, Longevity & Anti-Aging, Memory, Anti-Oxidant, Cognition, Overall Well-Being
What are Blueberry benefits?
Blueberry is a fruit that contains many molecules called anthocyanins. These antioxidant compounds are often supplemented for their ability to improve cognition. Also known as 'blueberry', some regions do not have access to this food because of its plantation, so blueberry supplementation may be the best way not to lose the benefits it brings. Besides its antioxidant power, it prevents premature aging and helps the glycemic index, preserves the memory, and decreases the risk of cardiovascular problems due to the reduction of bad cholesterol. Discover in 3 steps how to improve your health and which supplements can help your organism, maybe blueberry is one of them.
Table of relations
Outcome
Sub-Outcome
Consistent effects
Strength of effects
Scientific articles
Notes
Cognitive functions are brain skills divided into: memory, perception, language, executive functions, attention and praxis (ability to perform complex movements). These functions depend on healthy synapses and neurons, which require good overall brain functioning. Supplements can affect cognitive performance directly or indirectly. Direct effects can alter or participate in neurotransmissions and influence the brain's energy metabolism. The indirect effects include hormonal changes that affect the brain, and improvements in cognitive disorders such as anxiety, depression and insomnia.
Cognition refers to the mental processes involved in gaining knowledge and comprehension. Cognitive actions include thinking, knowing, remembering, judging, and problem-solving. These are higher-level functions of the brain and include language, imagination, perception, and planning.

Memory is the faculty by which the brain encodes, stores, and retrieves information. It is a record of experience for guiding future action. There are short and long term memory and both can be improved by supplements and mental training.
To live longer is necessary to live well, meaning that overall well-being, healthy organs, a healthy brain and good habits are taken into consideration when it comes to longevity. All of those circumstances require a healthy lifestyle, which works directly in the prevention of illnesses or conditions that might negatively influence your health. There are a lot nutraceutics and supplements that can help the body to stay safe and sound, just as it should be.
Oxidation reactions occur naturally in all cells of the body, which produce free radicals. These radicals can initiate chain reactions that can damage cells or cause them to die. Antioxidant substances eliminate free radicals and inhibit other oxidation reactions, thus protecting and prolonging cellular functions and protectiong them against tumors.

Well-being is related to one's ability to achieve needs and be satisfied with life. It is considered that, for an individual to be healthy, must live the most complete state of physical, mental and social well-being.
Table of negative interactions
Related videos about Blueberry