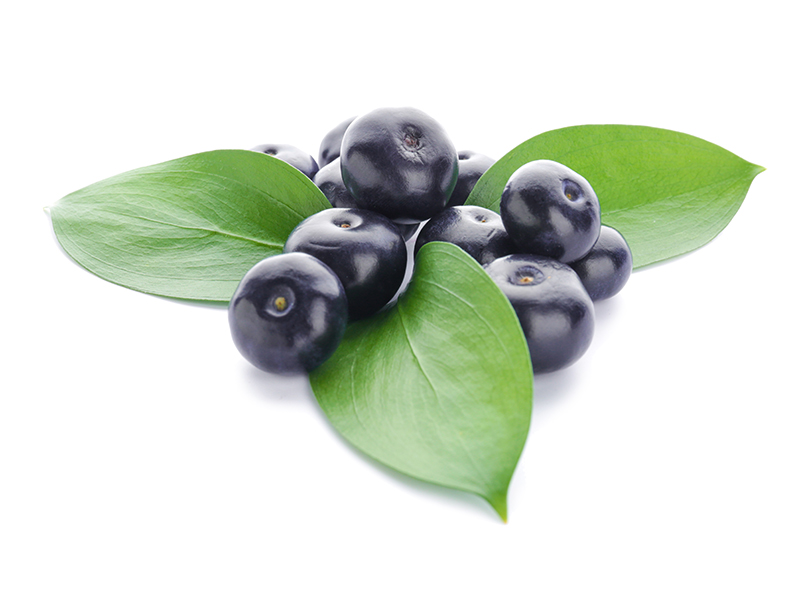 Acai Berry

,

Acai

Acai Berry is a purple fruit similar to blueberry from a type of palm tree. It is widely used in the food and drink industries. The states of Pará, Amazonas and Maranhão, in Brazil, are the largest producers of this fruit, together accounting for more than 85% of world production. Acai is considered an exotic delicacy and can be used as a functional drink, jam, jelly and ice cream.
Origin:

Plant Based

Source:

Itself

Type:

Vitamin, Mineral, Phytochemicals, Protein, Poliinsaturated fatty acid, Carbohydrate, Monoinsaturated fatty acid, fibers

Age Range:

Adults (18-60), Seniors (>60)

Toxicity:

There is no evidence of toxicity until now

Outcomes:

Longevity & Anti-Aging, Overall Well-Being
What are Acai benefits?
As an Amazonian fruit, açaí has become known all over the world for its various forms of consumption. As ice cream, juice, or even in soups, this superfood carries several benefits for our health. Because of two fatty acids present in açaí (omega-3 and omega-6), it reduces bad cholesterol. Besides being good for diabetics due to its low glycemic level, it improves the immune system and has an anti-aging effect due to its high content of antioxidants. These antioxidants also provide healthy skin, as well as oils for facial cleansing that come from acai. Other benefits of acai are: Increased energy and stamina, control of cholesterol levels, and detoxifying effect. Take the test on our homepage and find out in which areas of your body acai can help!
Table of relations
Outcome
Sub-Outcome
Consistent effects
Strength of effects
Scientific articles
Notes
Published articles about Acai and Overall Well-Being
Body Description
Overweight, Average
Comments for this article:
In elderly humans, consumption of blueberry juice (428-598mg anthocyanins) daily for 12 weeks was associated with improvements on verbal learning and memory, while changes in blood glucose and insulin as well as subjective well being (geriatric depression scale) only trended towards beneficial changes.
Trial Plan
Non-controlled trial
Age Parameters
30-44, 45-64, 65+
Comments for this article:
82 men received 320 saw palmetto extract daily for 8 weeks. International Prostate Symptom Score (IPSS) decreased from 14.4 ± 4.7 to 6.9 ± 5.2 over this time period, SDys score measured using the brief Sexual Function Inventory improved from 22.4 to 31.4, and Urolife BPH QoL-9 score improved from 137.3 to 195.0 over this time period, with all these results being statistically significant. This was an open-label, uncontrolled trial, however.
Trial Plan
Randomized trial
Age Parameters
45-64, 65+
Comments for this article:
Men over 45 years of age with AUA symptom score between 8 and 24 were randomly assigned to placebo or escalating doses of saw palmetto, which consisted of 320mg for first 24 weeks, 640mg for next 24 weeks, and 960mg for the final 24 weeks, for a total of 72 weeks. Serum PSA levels were measured with no difference between the saw palmetto group and placebo at any of the time points. Mean AUASI score decreased significantly over the course of the study in both placebo and saw palmetto groups (14.42 to 12.22 for saw palmetto, 14.69 to 11.70 for placebo), with no statistically significant difference between them. Many additional secondary measure were taken, including AUASI QoL, objective and subjective urinary flow measures, and sexual function measures. All were not significantly different between placebo and saw palmetto.
Longevity & Anti-Aging
To live longer is necessary to live well, meaning that overall well-being, healthy organs, a healthy brain and good habits are taken into consideration when it comes to longevity. All of those circumstances require a healthy lifestyle, which works directly in the prevention of illnesses or conditions that might negatively influence your health. There are a lot nutraceutics and supplements that can help the body to stay safe and sound, just as it should be.
Well-being is related to one's ability to achieve needs and be satisfied with life. It is considered that, for an individual to be healthy, must live the most complete state of physical, mental and social well-being.
Table of negative interactions
Related videos about Acai